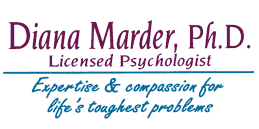 Do you have a question about types of psychotherapy? Are you wondering about how to handle a difficult family situation, or bouts of anxiety?
Ask Doc Diana!
Every few weeks, I'll choose a question to answer on this page. While I cannot give personal advice, I'll do my best to answer your question based on my therapeutic experience and on relevant psychological research. Type your question in the box below.
Don't forget your email address if you want a personal response!