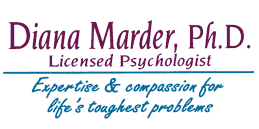 Are you tired of your life being stuck?
Do you want to move toward a more fulfilling life and more rewarding relationships?
Would you like a gentle but powerful therapist?
Treatment Philosophy
As a psychotherapist and as a human,I believe every person has the right to be heard fully and deeply, with understanding and without judgment. Whatever your difficulty, my first step will be to listen until we are both satisfied that I understand you, your problems, and your dreams. As you begin to listen to yourself with this same objectivity and compassion, you may begin to see the solutions on your own. Of course, as a trained psychologist, I will also be able to contribute insights and perspectives you may not have considered.
Together, then, we can also choose from a variety of specialized techniques to help you get the results you want. In experiential, or Focusing-Oriented Psychotherapy, you will learn to go beyond just words and to access your deepest, bodily-felt intuitive knowledge to move beyond your stuck places. Integrative Body Psychotherapy is another powerful technique that can help you feel, concretely, where you are stuck and how to move forward toward greater energy and aliveness. EMDR (Eye Movement Desensitization and Reprocessing) can also help people work through old traumas that keep them stuck. In all of these ways, I will help you move toward being the person you were truly meant to be.
My office reflects the atmosphere of peace and safety I want to provide for my clients. A duck pond, gurgling fountains, and large sunny office will help you relax into telling your story. The office is freeway-adjacent on Beach Blvd. in Huntington Beach.
Licensed Psychologist Cal Psy11321
Training and Experience
My education as a psychologist began in college when I studied under Eugene Gendlin, the award-winning psychologist/philosopher who invented Focusing. But it was still some years before I decided to become a practicing clinical psychologist. I attended Harvard University, got my Ph.D., and became a college teacher. Later, while attending a client-centered training program, I decided that my true interest was in clinical work. I entered a respecialization program at The Illinois School of Professional Psychology to become a clinical psychologist.

My internship was at the San Fernando Valley Child Guidance Clinic. After that I worked for the County of Orange Health Care Agency as a registered psychologist before and after becoming a licensed psychologist in 1989.

Since 1992, I have been in private practice in Huntington Beach. I love learning new things, and have sought out advanced training in EMDR, self-psychology, Integrative Body Psychotherapy, and Violet Oaklander's Gestalt Therapy with children. I have also spent many weeks in advanced training with Dr. Gendlin and the International Focusing Institute. To add variety to my work I've taught part-time in local graduate schools of clinical psychology, supervised psychology and counseling interns, and done hundreds of psychological evaluations with young children.
Directions to office
My office is located at Beach Blvd. and Stark St., one block south of Edinger, in the same complex as the auto club. Take the 405 freeway to Beach Blvd. and turn south toward Huntington Beach. Move immediately to the left and turn left on Stark St., one block south of Edinger. You will see the Sport Chalet on your right as you turn. Turn in at the end of the office complex on your left. 16168 is a two story building with balconies and a duck pond. I'm in suite 265.
From Huntington Beach take Beach Blvd. north and turn right on Stark, just past Pavilions and Target. From Garden Grove or the 22 take Beach Blvd. south to Stark and turn left.